SuperBore Prediction
Arizona (INEPT) - It has come down to this. One day. One game. The season of endless pain, finally at an end. Each week, a challenger has stepped up, and each week, the challenger has failed. Failed to make that one play, that crucial stop, that critical catch. Or, as in the case of Washington Redskins, those
seven essential touchdowns and uncounted other plays that would have been required to win a game they lost 52-7.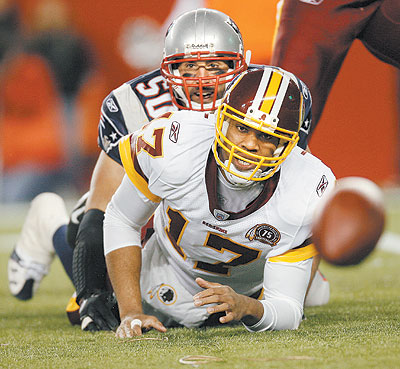 Redskins: You stink
Sometimes, here at INEPT, we can sense a pending Patriot loss. Last year, with the heroic Colts at home in the Championship game, we
predicted the outcome.
And it
happened.
Can it happen again?
Colts defeat Patriots, 2007
Along the way this year, fate has seemed to conspire against us. Experienced teams and quarterbacks fell gently out of the playoffs (e.g.,
Favre
and
Manning
losing), clearing the path for those Hated souls in blue and white. Where experience existed, injuries arrived, turning possible upsets into mind-numbing losses (e.g.,
the Chargers with Gates, Rivers, and LT hurt
). What was
the Gauntlet
has turned into the perfect storm in the Patriots' favor.
The Perfect Storm: A Bad Movie
So we are down to
Eminem time:
we have one shot, one last opportunity to seize everything we ever wanted. Will the Giants capture it, or just let it slip? Eminem did it; can the Giants?
Giants: Seize your opportunity, or Brady's ankle
Do we believe in Karma? In the justness of the football Gods? If so, there may be no better way to set things right. In this
year of cheating
, what better way to punish those who do wrong by giving them nearly everything and then snatching it all away?
We had a dream the other night. Eli and the Giants on their own 20, with less than two to play. Score: 28-24, New England hanging on. A crossing route to Plax, a screen to Bradshaw, and they were moving.
Plax, then Bradshaw
A run up the middle by Jacobs, and a slant to Smith.
Jacobs, and Smith
An out to Plax; the Giants now in scoring range. Time ticking down. An incomplete pass, and another. A quick pass to Amani, short of the first. Fourth down, 10 ticks on the clock, one last play. One last shot.
10 seconds on the clock
The ball is snapped. Eli fades back. Patriot blitz, but the line holds. Eli lofts one to the corner, with Plax running under it. Samuel with good coverage. They leap ...
Plax leaps for the ball
In the dream, he catches it. In the dream, the final score: Giants 31, New England 28. In the dream, the season ends in the most fitting way possible. 18-1. Perfection: Denied. Cheaters: Didn't Prosper. Patriots: Victims of one the greatest upsets in Sports History. In the dream. Right now, that is all that it is. A dream. Come Sunday, we can only hope, it will become a reality.
Prediction: Giants 31, New England 28. Dreams do come true.
Dreams do come true. Ask Cinderella, MFers.
Labels: prediction, superbore preview