The Giant Drive
Arizona (INEPT) - As we bask in the glow of the
Giant upset
, we here at INEPT have decided to relive this past game in all of its gory detail. We begin with what will from now on be known in Superbowl lexicon simply as this:
the Drive.
Move over, Elway.
Our Graphical Depiction of Giant Drive (Click on picture to enlarge). Play-by-play here.
The graphical depiction shows the beautiful drive, unfolded in time (vertical) and space (horizontal). Two minutes and four seconds of blood, sweat, and at the end, Plax's tears. So many turning points, each of which could have changed the outcome. As much as we would like to believe it, the win was not inevitable. Because of that, though, it is sweeter. This victory was earned.
It began so simply: a pass threaded to the sure-handed Amani Toomer. 11 yards, first down. So many last-minute drives fail to even get that initial first down. Right off the bat, we can see, there is fight in these Giants. Eli is not rattled; rather, he is preternaturally cool. The only problem (as you can see in the graph above): time is ticking. Already, thirty precious ticks, gone.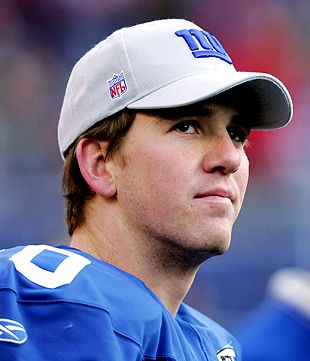 Easy E: Cool from the Start
Trouble begins brewing. Two quick incompletions (both hoping to connect with Burress), and we are at the two-minute warning. Third down. Tension is high. The evil team, just two plays away from perfection, and Hater Nation, two plays away from endless agony.
But Eli is up to the task. He zips a pass to Toomer, who catches it, falls, and is quickly touched by Rodney HGHarrison. But, Toomer didn't make it. Another test coming: 4th and 1. In come the heavies. Jacobs in the backfield. Everyone knows who is getting the ball. If Belichick had
videotapes,
he might even know the exact play call. But he doesn't. The ball is hiked, Jacobs plunges forward. He falls. And he converts. First down!
Jacobs: Needs one, gets two.
Eli scrambles for five, nearly losing the ball in the process. Another moment where the game could have turned. Another sign: the Football Gods might be on the right side (finally). If that play didn't convince of you that divinity favored the team from New York, the next two will. These two plays are the turning point of the drive, the game, the season, and history. Two little plays, one Giant outcome. Here we go.
The Football Gods: Fickle, but Just.
2nd and 5. Eli throws a bad pass out to the right side. Did the receiver run the right route? Was it a bad throw? We might never know. What we do know: the ball was in Asante Samuel's hands. In his hands. If he catches it, game over. If he catches it. If. The ball slips through his hands. The game continues.
Asante "Butterfingers" Samuel
Now play number two. Of course, by itself, this play will live on in football lore. This play, so special, amazing, spectacular, miraculous, that it will have its own name. Thus, we name it: the Catch. Sorry, Dwight, it was that good.
What used to be the Catch; sorry, Dwight.
You know the play by now. So ridiculous, in fact, that there are two components. First, Eli avoids three different Patriots, somehow stumbling his way to freedom. He will not be tackled, he will not be denied. A sack, and it's fourth down and a ways to go. But no sacks are to be found here. Instead, Eli scrambles away, and flings one up there. It soars ...
Eli: Tackle me? No thanks. I'd rather chuck it downfield.
The second part is the stuff of pure legend. The hero: little-used received David Tyree. The foil: none other than Rodney Harrison. The ball wobbles through the air. They leap. Tyree grabs it, but experienced, (artifically) strong, all-pro Rodney gets his arm in there and rips. Rodney has Tyree's arm, Tyree's right arm and head have the ball. How does he hang on? As he hits the ground, he puts his other hand back on it, securing the ball. An unbelievable, how in the world, what the F---? catch. In a moment, the game changes. The Giants are now threatening. But threatening doesn't win games -- they have to get in.
How did Tyree do this?
We know how the Patriots have excelled here. Against a strong Chargers team just two weeks ago, numerous red-zone stops turned touchdowns into field goals, turned defeat into victory. They have done it many times. Would they today?
Trouble: Brewing one last time. In the picture, replace coffee with Trouble. Then, it works.
Despite the Catch, the Giants get into third and long again, thanks to a sack and an incomplete pass. But a new hero emerges. Rookie Steve Smith catches a quick pass towards the sideline, keeps his balance, and side-steps towards the marker. He leans: first down!
Smith: Converts
So here we are. It started off on the Giant 17, but now it is on the Patriot 13. First down. This is where Belichick and friends usually shine. But no more tapes, now, Bill. Just your guts. And your generous, wonderful, red-hoodied gut was telling you: blitz.
Red-hoodied Belichick's Gut: Blitz!
At the line, Eli smiled the smile of a Cheshire cat. Looks like Blitz, he is thinking. Where is Plax? Single with Hobbs. Eli is almost too anxious, almost too excited. Come on and blitz! Blitz! Bring it! Bring it, and we will score. Bring it, and we will win. Bring it, Eli implores. They bring it.
Patriots bring it...
Earlier in the game, in the walk-through, Eli is tossing seen tossing fades to Plaxico. Wobbly, slow, knee-hurting, high-ankle spraining, Superbowl-predicting Plaxico. Each pass falls gently into Plax's hands, a simple yet portentous audition. This is just like the walk-through, just like those many hours of practice. Eli lofts it, Plaxico fakes a slant, turns outside, and cradles the lofted pass. They brought it, Eli threw it, Plax caught it. The Drive, now over. The game, nearly so. And history, sweet record of what has happened, will write: these Giants won the game.
Plaxico cradles Victory
So there it is. So many points where things could have gone wrong. So many chances for 19-0. Instead, we are left with 18-1. And that, dear Haters, sounds like perfection to us.
18-1: The Perfect Ending. Celebrate with a T-shirt!
Coming soon:
Some new thoughts on all that is wrong with Patriot nation, and why this loss might have more impact than they would like to let on.
Labels: giants, superbore preview, the catch, the drive