The Gauntlet
Boston (INEPT) - Here it comes. Every Hater's wish, now true. The Hatriots may be perfect. They may look good right now. But to get the prize, they will have to do what we all have been hoping for. The have to run
the Gauntlet
.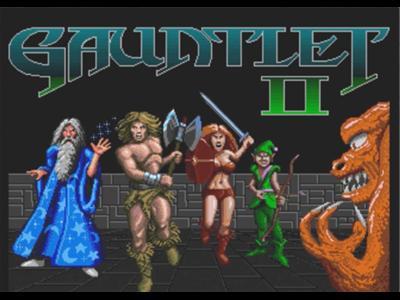 Not this Gauntlet
The definition:
gauntlet (also gantlet |ˈgantlit; ˈgônt-|)
noun (in phrase run the gauntlet)
1. go through an intimidating or dangerous crowd, place, or experience in order to reach a goal : they had to run the gauntlet of television cameras.
2. historical undergo the military punishment of receiving blows while running between two rows of men with sticks.
3. playing the jaguars, then colts/chargers, and then cowboys/packers/maybe giants in order to win the Super Bore.
ORIGIN mid 17th cent.: alteration of gantlope (from Swedish gatlopp, from gata 'lane' + lopp 'course' ) by association with gauntlet (1).

It is the third definition that is most pleasing to us, although definition two is certainly interesting. Why are
military punishments
always so memorable?
We can't handle the truth, either
First up in the Gauntlet: rising star
Jacksonville
. Long gone are the memories of 2005's failing strategy of
3 and out
. Long gone is tubby QB
Byron Sandwich
. And long gone is an easy win due to cold weather. This is a team
built for the playoffs
.
Hope rating: 5/10
(+2 can run the ball, +1 can play in cold weather, +1 david garrard, +2 defense, -1 still remember the 2005 playoff game)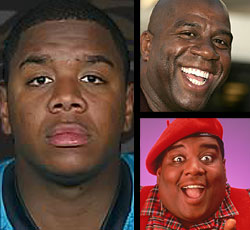 What's happening, Byron? Not the playoffs.
Next up: likely the
Colts
, or a very motivated (and by then confident)
Chargers
team. We are happy with either. Assuming the Colts, not too much needs to be said. A
true rival
to the evildoers in the Northeast, the Colts are champs (remember that Hatriot fans?) and a formidable threat.
Hope factor: 7/10
(+2 have beaten the Hatriots a lot lately, +2 SuperBore champs, +2 Peyton, +1 Addai, +1 Defense, -1 Freeney gone goddammit)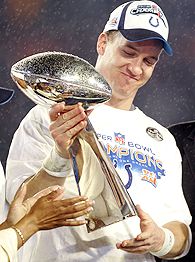 Recall this picture?
Assuming the Chargers, we'd have sweet revenge on our side.
Hope factor: 6/10
(+2 LT, +2 Defense, +1 we remember last year you new england punks, +1 we beat Indy! -1 Rivers stinks, +1 LT again - he is that awesome)
LT is God
We won't get into our hope ratings for the NFC yet; perhaps we won't need to. The Gauntlet is tough. The Gauntlet is formidable. But most importantly, the Gauntlet is here.
Media Watch:
A rare
moment of sanity
from the Boston Herald's Gerry Callahan. Choice quote: "Well, this probably isn't the greatest team ever. It is a very good team that has been willed into the history books by the greatest quarterback ever." He's half right: the Hatriots are not the greatest team ever. 50% right is very high for Boston reporters, so full praise here.
Labels: gauntlet, hope factor, playoffs