Hatriots Score Zero Million Points
Miami (INEPT) - In a game to be cherished, adored, and in general, watched again and again, the
Miami Endangered Fish
thumped the hapless
Hatriots
,
21 to 0
.
However, even more interesting was the post-game interview, when a defensive
Coach Bill Belichoke
tried to spin the results, repeatedly iterating that his team "scored zero million points."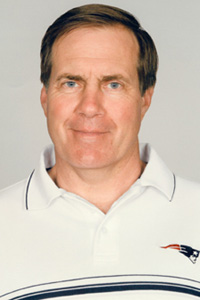 O'Reilly To Belichoke: How To Spin Bad News
"I'm not sure what you all are complaining about," yelled Belichoke. "After all, how often does a team score zero million points?!"
Quarterback
Tom 'Fraidy
agreed: "This is just another example of the
media blowing things out of proportion
. After all, our game plan called for us to score just about zero million points, and that is exactly what we did. In fact, if you look at the
league average in team scoring
, it is just about zero million points."
In related news, the Hatriots petitioned the league for a rule change to allow
mind-numbingly boring
teams to throw
multiple forward passes
on each play. "How else is a team as offensively-challenged as we are supposed to score?" uttered the relieved-looking defensive coordinator
Dean Pees
.